Investment




OUR DIGITAL PACKAGES:

Our "Basic Session" package:
$95 and that covers up to 30 min of pre-shoot hair and makeup time for you or for an MUA you bring, and 2 hours of studio or location shoot time with unlimited wardrobe changes. You will also get 15 retouched digital images. Each additional edited photos over the 15 shots is $5.00.

Glamour Session:
Our $195.00 package includes a photographer, makeup and hair artist, in studio and outdoor locations, 3 hours of shooting and up to 30 highly retouched digital photos on CD. We have some wardrobe too, but we want you to provide some in case you don't like what we have. Each additional edited photos over the 30 shots is $5.00.

Total Session
$195 package includes everything in the basic package, plus a thumbdrive of ALL your photos from that day.

Complete Session
$295 package includes everything in the Glamour Session plus a thumbdrive of ALL your photos from that day.

We have tons of props too!

OUR PRINT PRICING:

Print Packages:
Package A: $40.00
1-8x10, 2-5x7 of one pose
Package B: $65.00
1-8x10, 1-4x6, 2-5x7, 8 wallets of one pose
Package C: $110.00
2-8x10,3-5x7, 16 wallets of up to 2 poses
Package D: $160.00
1-11x14, 2-8x10, 1-4x6, 3-5x7, 16 wallets of up to 2 poses
Add-On G: $80.00
CD of package images

Proof Books
20 prints: $125.00
30 prints: $150.00

Individual Print Pricing
4 x 6 $8.00
5 x 7 $12.00
8 x 10 $24.00
11 x 14 $55.00
Wallets (8) $24.00


Mounted Texture Prints
11 x 14 $75.00
11 x 16 $80.00
16 x 20 $150.00
16 x 24 $175.00
20 x 24 $210.00
20 x 30 $225.00
24 x 30 $300.00
30 x 40 $425.00


Canvas Gallery Wrap Prints
16 x 20 $275.00
20 x 24 $300.00
20 x 30 $325.00
24 x 36 $350.00
30 x 40 $475.00
36 x 48 $525.00
40 x 60 $600.00

864-907-4996

301 S Buncombe Rd Suite F Greer SC 29650


Classes


PHOTOGRAPHY CLASSES
All classes are one-on-one, hands on instructional classes.
2 Hour Minimum Please...

864-907-4996

301 S Buncombe Rd Suite F Greer SC 29650


Basic Photography Class $25.00 an Hour

This class covers everything a novice photographer should know to start taking better pictures. One on one lessons with your camera and real world situations. Learn what all the buttons on your camera do. Perfect for the entry-level enthusiast!
________________________________________


Advanced DSLR Photography Class $25.00 an Hour

We discuss advanced techniques to take professional looking pictures. There will be some classroom style discussion but this will mostly a hands on learning experience using your all camera's Mode settings.

________________________________________


Portrait Photography Workshop $25.00 an Hour

This class will guide you step by step through the process and teach you how to bring out the best in your natural light portrait photos. Learn how to pose your subjects, choose pleasing backgrounds and avoid harsh shadows. The Portrait Photography Workshop is a hands on workshop working with a professional model. This class is perfect for those who are looking to improve their portrait photos.
________________________________________


Lightroom and Photoshop Workflow Class $25.00 an Hour

Learn how to re-touch like a professional! Color balance, sharpening, eye enhancement, noise reduction, bags under the eyes...the little things that your eyes don't notice, but your brain does.

________________________________________


Studio Photography Workshop $25.00 an Hour

Lighting is easily the most important aspect of photography. Learn all about studio lighting, types of lighting, and how to match backgrounds to what your subjects are wearing. Learn how to use a studio light meter and how to light for awesome fashion shots.

________________________________________

Studio Lighting with a model $70.00 to $120.00 an Hour

Choose between several models we have and have your own glamour photo shoot! We help you set up all the lighting for many different looks.


Studio Rental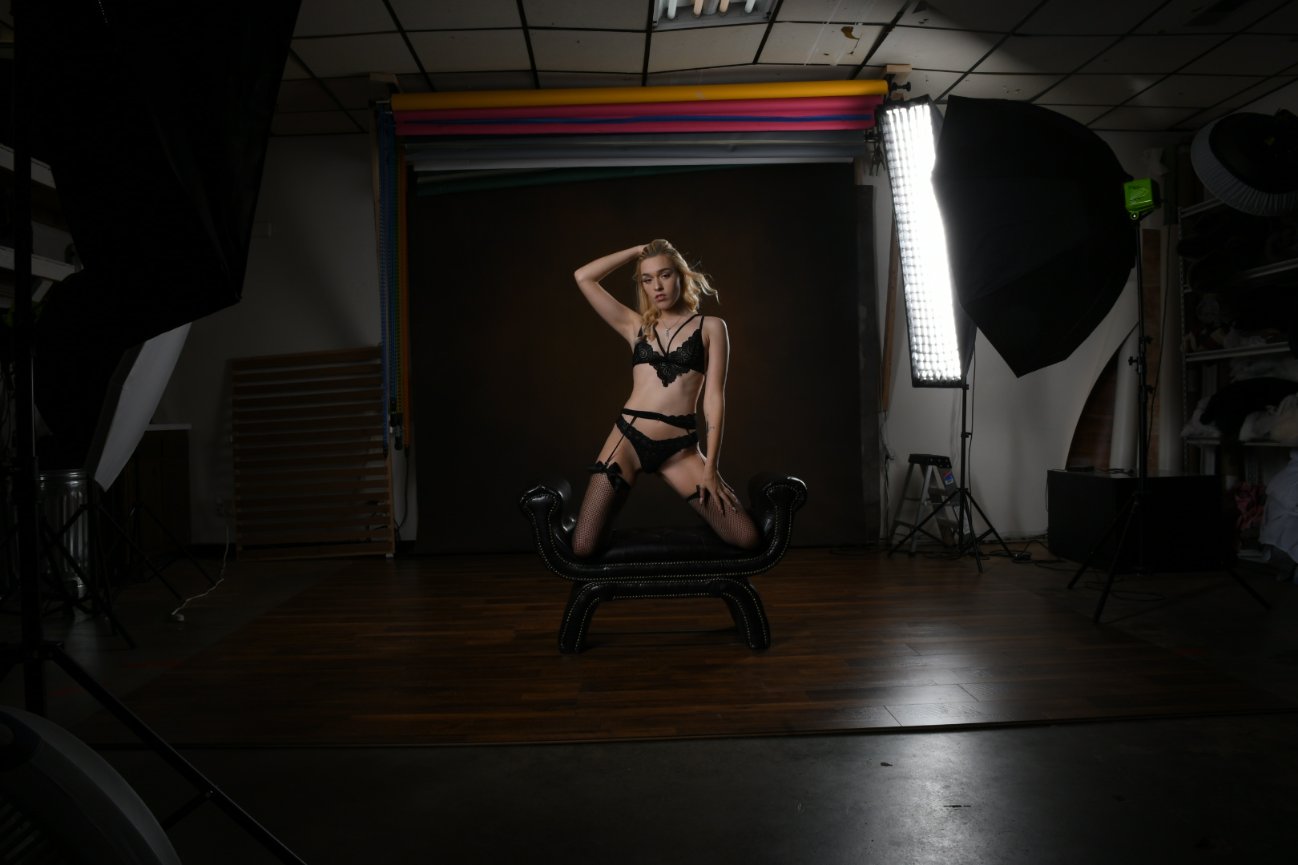 STUDIO USE
301 F South Buncombe Rd
Greer SC 29650
864-907-4996
Monthly Photography Studio Membership
As a member of the studio, you have a key to the studio, access to the Shared Studio Calendar to schedule your shoots and free studio photography classes. Access to the whole studio for one flat monthly fee...
Just call for info!
Six person shared photography studio now has one slot available...
Full calendar system for us to schedule studio resources.
90 day contract then month to month with 30 days notice required to leave.

Full studio with 9 Alien Bee studio lights
4 Alien Bee 1600
3 Alien Bee 800
2 Alien Bee 400
Pocket Wizards
Computer with Photoshop and Lightroom
Meeting area with 42" color TV with HDMI capability for presentations.
6 colors of seamless paper
Natural light area
Many Muslins
1 beautiful brown canvas
Tones of props and clothes, costumes, shoes and more
10+ ft ceilings
FREE Wi-Fi
Stereo System
Lots of parking
Shared Google calendar (members only)

Lights and Vagabond (battery power supply) use available for day shoots outdoors.
Stools, chairs and more furniture.

Fridge
Microwave
Changing room
Restroom
One Time Photography Studio Use:
(Two hour minimum.)
We allow use of out beautiful studio for a per hour rental fee. Just $25 an hour... (2 hour minimum.) $25 deposit required
As a photographer, you will have access to Paul C Buff studio lights, props, pocket wizards, colored seamless papers and muslins.